SUMMARY OF THE FOREST MANAGEMENT PLAN OF KAPIT FMU (2017-2022)
The Forest Management Plan (FMP) for Forest Timber Licence (FTL) No. T/3491, KAPIT Forest Management Unit (FMU) has been approved by Forest Department Sarawak on 17th April 2017 [Ref:  DF.972.133(Jld.6)-49]. Addendum to update the FMP with new information such as gross area, AAC result, local settlement list and map, growing timber stock and latest information of the representative of existing forest ecosystem was submitted to FDS on 4th June 2020 [Ref: SFM/MM/2020/(6)] and approved by Director of Forest Sarawak vide letter ref (37)JHS/600-3/7/110/Jld.3 dated on 29 June 2020. Summary of the updated FMP as follow;
1.Background of Management Area
Kapit FMU has a total area of 149,877 Ha. About 72% (108,560 Ha) are located inside Baleh PF and Baleh PF (Ext. 3) and the remaining 28% area falls under Kapit stateland.
Kapit FMU is served by public road and logging road. The administrative center of Kapit FMU is located at Engkeramuh Camp, 38km from Melekun Logpond.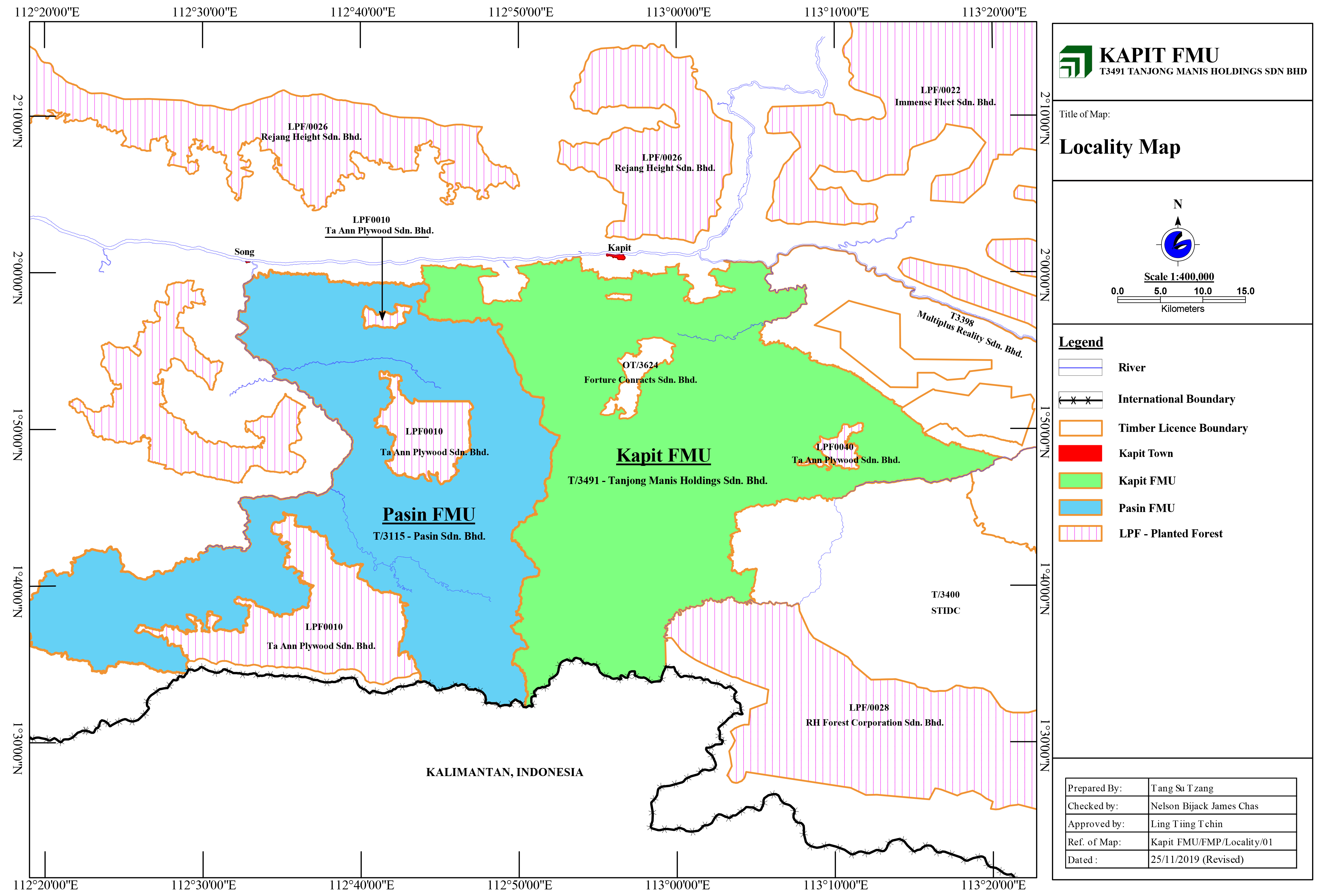 2. Forest Resource Assessment
FRA data collection work has commenced in April 2017 and completed in December 2018. FRA to be conducted based on updated FRA guideline approved by FDS.
The FRA data has been submitted to Forest Department Sarawak on the 6th March 2019 under the ref no SFM/MM/2019(11) for the formulation of Sustainable Annual Allowable Cut (AAC).  Forest Department Sarawak has completed the formulation and prepared a report on titled "Calculation of the AAC for Kapit FMU (T/3491)" dated April 2019 (vide (98)JHS/600-3/7/102/Jld.4 dated 30th April 2019). The AAC is 88,532.6 m3 per annum.
Management Plan Prescriptions
The Management shall abide by all laws and rules which regulate the implementation of the Forest Policy of Sarawak and comply with the requirements of Malaysia Criteria and Indicators for Natural Forest Management Certification [MC&I (Natural Forest)] under the Malaysian Timber Certification Scheme (MTCS).
The management shall follow the cutting rules and minimum diameter cutting limit (MDCL) set by the Forest Department Sarawak (FDS).

Dipterocarp species – 50cm and above;
Non-Dipterocarp species – 45 cm and above.

The harvesting operation shall adopt the Reduced Impact Logging (RIL).
Period of harvesting: 25 years with 25 annual coupes (Mean Annual Coupe size 4,789ha)
The planned coupe along with its size is shown in table below.
COUPE NO
COUPE YEAR
OPERABLE AREA
SHIFTING AGRICULTURE (SA)
LOCALISED STEEP TERRAIN >35°
INTERNATIONAL BUFFER (HA)
GROSS TOTAL (HA)
1
2017-2018
4,737
–
28
–
4,765
2
2018-2019
4,776
–
–
–
4,776
3
2019-2020
4,877
–
43
–
4,920
4
2020-2021
4,701
–
101
–
4,802
5
2021-2022
4,605
–
11
1,226
5,842
6
2022-2023
4,847
–
15
–
4,862
7
2023-2024
4,747
–
27
–
4,774
8
2024-2025
4,612
–
–
–
4,612
9
2025-2026
4,645
–
–
–
4,645
10
2026-2027
4,661
–
–
–
4,661
11
2027-2028
4,608
–
13
–
4,621
12
2028-2029
4,603
705
–
–
5,308
13
2029-2030
4,745
2,132
–
–
6,877
14
2030-2031
4,934
1,307
–
–
6,241
15
2031-2032
4,912
1,492
11
–
6,415
16
2032-2033
4,872
2,650
–
–
7,522
17
2033-2034
4,938
–
–
–
4,938
18
2034-2035
5,119
12,110
11
–
17,240
19
2035-2036
5,364
482
–
–
5,846
20
2036-2037
4,893
6,411
88
–
11,392
21
2037-2038
4,873
–
42
–
4,915
22
2038-2039
4,411
–
60
–
4,471
23
2039-2040
4,613
–
–
1,071
5,684
24
2040-2041
4,908
–
53
–
4,961
25
2041-2042
4,724
–
10
–
4,734
TOTAL
119,728
27,289
513
2,297
149,827
NET OPERABLE (HA)
119,728
COMMUNITY USE AREA
27,289
LOCALISED STEEP TERRAIN >35°
513
INTERNATIONAL BUFFER (HA)
2,297
GROSS TOTAL (HA)
149,877
The FMP shall undergo mid-term review to enable any new and practical recommendation from monitoring to be incorporated so as to keep the Management Plan up to date.
Planning of Forest Roads and Harvesting Systems
Planning procedure for the forest roads and harvesting system will be in accordance with the Forest Engineering plan. This shall be conducted in two main stages; The General Harvesting Plan (GP) and Detailed Harvesting Plan (DP)
Pre-harvesting Activities
Infrastructure Development – Construction and maintenance of roads, drainage structures and bridges in accordance with the "Guidelines for Forest Road Layout and Construction and the construction of new FMU Administrative Camp near Sg. Engkeramuh, Sut.
Demarcation – Boundaries for Coupe, Block, area for protection and conservation shall be demarcated before pre-felling Inspection.
Operational Inventory and Tree Marking – 100% tree enumeration for the Harvestable tree (HT), Protected trees (PT), Potential Crop Tree (PCT), Mother Tree (MT), Fruit Tree (FT) and Nesting tree (NT).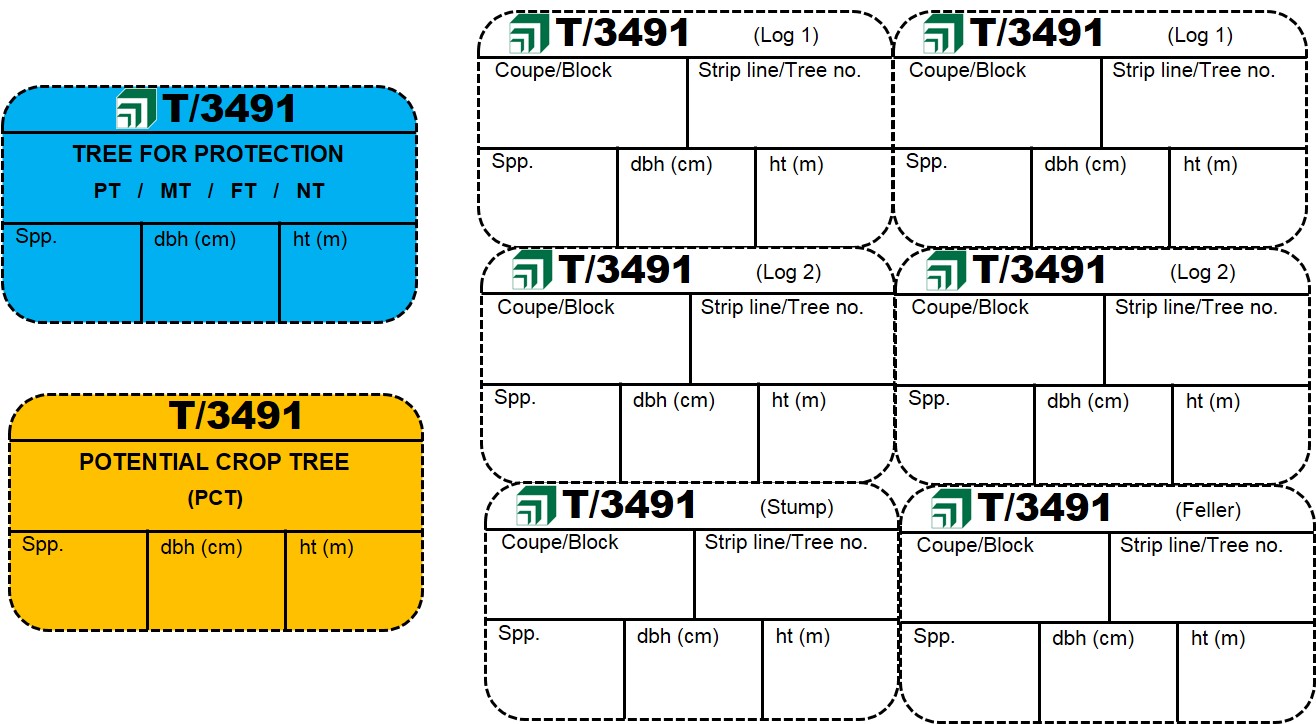 Infrastructure – Planning of Landing Sites and Skid Trails shall be conducted as per "RIL Guidelines"
Monitoring and Control – by Sarawak Forestry Corporation (SFC) through Permit to Enter Coupe (PEC).
Harvesting Operation
Training of Forest Workers – shall be done in accordance with the Section 51 of the Forest Ordinance, 2015.
Harvesting methodology – shall comply with "RIL Guidelines" with the use of excavator cable yarding/winching.
Tree Felling – Directional felling to minimize damage.
Post-Harvest Activities – include installation of cross drains and sedimentation traps and 10% sampling of post-logging assessment, i.e. logging damage assessment and enumeration of the residual stand.
Measurement, Royalty Marking and Tagging of Logs – CoC will be implemented as per requirement under the implementation of Sarawak Timber Legal Verification System (STLVS).
Environmental and Social Impact Assessment
1.Environmental Impact Assessment
New EIA is being prepared based on the new consolidated and amalgamated Forest Timber Licence boundary. EIA was conducted based on the "Term of Reference" of EIA Study for the Forest Management Plan in Respect of Kapit Forest Management Unit (FMU), Kapit Division, Sarawak – Minutes of Scoping Meeting" (Ref:  (5) NREB/6-3/2F/90) approved by the Natural Resource and Environmental Board (NREB) on 15th December 2016. The final EIA report has been approved by the NREB on 29th January 2018 with approval reference number (21)NREB/6-3/2F/90.
Mitigation measures:  biodiversity conservation, control of soil and sedimentation, protection of water quality, road safety and management of socioeconomic impact.
2. Social Impact Assessment
As for the Social Impact Assessment (SIA) report, the report has been prepared by Mesra Alam Consulting and completed in June 2017. Two survey methods included the key informant's interview and household survey was conducted.
Based on the assessment, Kapit FMU and its adjacent area are currently inhabited by at least 55 communities living inside or at the fringe of the FMU or outside of FMU boundary.
Social economic positive impacts: generation of employment, generation of business opportunities and uplift local community's economic status.
Forest Research
Scientific Collaboration on the Establishment and Assessment of Permanent Sample Plot PSP's at Three FMU's of Ta Ann Group

This project is a scientific collaboration to establish a statewide PSPs network.
The ultimate objective of PSP network is to enhance the sustainability of timber production from the forest management.

Scientific Collaboration on The Identification and Monitoring of Endangered, Rare and Threatened Species and Their Habitats for Sustainable Forestry

Spatial and Temporal Dynamics of Wildlife in Salt lick Areas
Identification of Endangered, Rare and Threatened (RTE) Medium to Large Terrestrial Mammals and Their Spatial and Temporal Dynamics in Sustainably Managed Forest.
The Dependency of Local Community on Wildlife and Natural
Silviculture, Forest Rehabilitation and Reforestation
Kelampayan Enrichment Planting – to improve the stocking and growing volume of production forest.
Methodology:

Being carried out on plantable skid trail – to generate vegetative cover to reduce the impact of rain on the cleared soil surface.
Kelampayan seedlings are raised in a forest nursery.
Monitoring will also be conducted to assess its condition, growth, pest and disease problem.
Manuring and weeding are important to boost the early development of plant growth and ensuring better survival.
Planting along selected road edge/embankment and decommissioned log landing site as slope protection measure and rehabilitation of open area.
Wildlife Management
Wildlife Management Plan:

Control of hunting through the implementation of DF 6/99: Wildlife Conservator and improvement of gate control.
Education and preventive measures – promote awareness to forest workers and local communities.
Identification and protection of fruit trees, nesting trees and salt licks during Pre-harvest Operation and directional felling of RIL operation.
Appointment of Honorary Wildlife Ranger – to assist wildlife officer in conducting awareness programmes and monitoring of poaching activities.
Control of access where outsiders need to register at Security before enter to FMU.
Implementation of Guidelines to identify and protect Rare, Threatened and Endangered (RTE) species of flora and fauna – any sighting of RTE in FMU shall be recorded and reported.
Identification and Management of Protected and Conservation Areas
NO
CATEGORIES
MANAGEMENT REQUIREMENTS
1
Non-commercial or poorly stocked area
Low stocking area will be mapped and excluded
2
Permanent Waterway
Identification and demarcation based on the recommended width of a riparian buffer zone in the approved EIA by NREB.
3
Steep Slope
Identification and mapping of steep terrain within Kapit FMU will be made based on IFSAR data interpretation for steep slope >35o.
4
Water Catchments
Identification, mapping and ground demarcation for protection (Gazette and community).
5
International Boundary and Totally Protected Area
Protection Buffer zone of one (1) kilometer width.
6
Critical Resource and Sites
Protection buffer zone of width 100 meters around the identified critical resources and sites to be demarcated and map.
7
Research Plot and Permanent Sample Plot
Permanent Sample Plot (PSP) established by FMU shall be protected with a 50m buffer around the plot perimeter boundary (subject to research treatment).
8
Community Use Area and Cultural/Religious Sites
Protection and demarcation of area for community use area shall be identified using community consultation with free, prior, and informed consent.

Joint demarcation of the gazette and/or agreed community use area, cultural site and/or religious site shall be mutually agreed by the FMU and the community.

9
Potential Tourism Area
Recreational and tourism potential shall also be identified and demarcated.
10
High Conservation Value Forest (HCVF)
The area identified as protected area would be delineated on the map and demarcated on the ground
11
Representative of Existing Forest Ecosystem
Identified based on the National Conservation Strategy (NCS) during pre-harvest assessment at Detailed Harvesting Plan (DP) level. The identified area shall be demarcated on map and protected in their natural state.
12
Biological Corridor and Wildlife Corridor
The FMU is practicing sustainable and selective logging on the native forest or habitat.  Therefore, there will be no clear felling of forest or conversion of forest into other land use that leads to the fragmentation of habitat.
High Conservation Value (HCV)
HCV status 2020 has remained the same as in 2019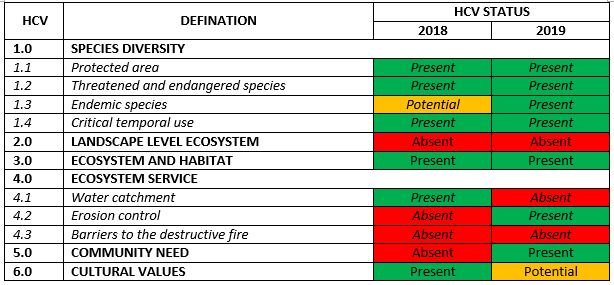 13. Community Development
Community
Establishment of Community Representative Committee (CRC) "Gerempong Masyarakat Zon Melekun" (GEMAZOM)
Establishment of Forest Management Certification Liaison Committee (FMCLC)
Worker
Establishment of Employee Representative Committee (ERC)
Occupational Safety and Health
The commitment and vision towards safety and health are clearly reflected in the Occupational Safety and Health Policy dated 1st June 2016.
Joint Safety and Health Committee have been established with the objectives to:

To reduce the risk of accident and ensure safe working conditions.
Keep the procedure in line with all applicable laws and regulations.
Instill awareness through briefing and training.

Management will invest in training of its forest workers to improve their quality of work and to carry out their duties safely.
(Updated by SFM 11 Aug 2020)